Well, I'm a Windows XP user and i just wanted to try Linux. Why ? Because i found some really nice screenshots of a Linux desktop.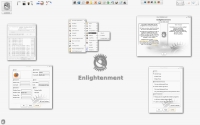 Its a theme for some X window manager called e17. I downloaded various Linux distributions and tried to install e17 somehow but without success. In the end i found elive , its some debian based distribution with pre-installed e17 window manager. I had to do the hd-install in my virtual machine and found this guide on how to setup. Than upgrade the whole distribution with apt-get. Some minor tweaks were made with the help of the people from the freenode irc channel #elive (big thanks to Thanatermesis). And finally i got the theme running. That whole e17 project is in pre-alpha state (0.3) so its very buggy, i had lots of crashes in various programs, some didn't work at all.
After all i found fluxbox some window manager that seems to be made for custom skins. I grabbed the Suse 10.0 64 bit Eval DVD and now I'm going to install it on my real system. I found the fluxbox 64 bit rpm as well and the way is all clear now. Linux I'm coming ! Switching to the dark side of the force, i hope it will be fun.
update: Tried suse 10 (64 bit) with gnome and kde. Its not that easy to get all stuff installed for 64 bit OS. DVD-playback(mplayer), mp3–playback(xmms) and tv-playback(Zapping TV Viewer) were my biggest hopes. But when i have video-playback i missed sound-playback and vice versa. Its just too much effort to get all things running and keep em running. I'll better try the 32–bit Suse 10 and see if its really easier to get things done.
posted in linux | 2 Comments