At first, there is no equivalent like Adblock + Filterset.G in Mozilla Firefox for Opera 9 that is as comfortable and efficient.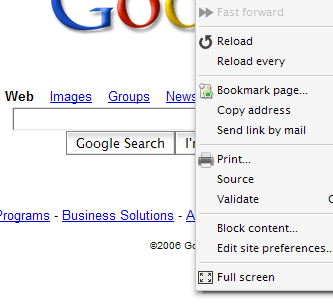 Opera 9 (beta 2) offers the "Block content…" option in its content menu. After pressing it you get some nice preview of what is being blocked from the site.
Basicly they use the filter.ini file in Opera's profile folders. Its a simple list of urls that specify excludes and includes. There have been external tools like OperaAdFilter(link died) and FlashBlock . You can although use external proxy tools that control your whole web traffic for all applications so you could block icq ads and opera ads with one tool. But these tools all suffer from very basic problems. If you block some ads on a web-site the place on the web-site is simply left empty and web-sites look a bit chaotic and unfinished. Adblock in Firefox handles this a lot better. The fact that opera integrated this feature in its gui shows that the developers listened to user requests. Lets hope Opera's "Block content…" will be as good as Firefox's Adblock in the final version.
Update: Final Version of Opera 9 is out and i found this neat link with some up-to-date Filterset in Opera 9 format . It works pretty well so far. But you still cant edit the color of the nasty yellow "special effect". By the way, if you can't find the urlfilter.ini in Mac OS X:
/Users/[username]/Library/Preferences/Opera Preferences
if its not there just go back to opera and use 'tools – advanced – block content' and create a sampe block. Than the file will be created.
posted in linux, mac os x, reviews, windows | 0 Comments