Finally ! Unsanity released the Beta 1 of its famous desktop theme modding software as universal binary. In this weblog post you can read the recent discussions and get the download link.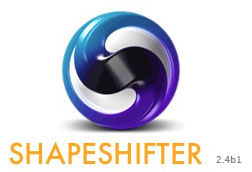 I had problems with themes like Mes, Muku and Pulsar (ShapeShifter crashed). But others had the same problems and Jason Harris promised to "release a 2.4b2 tomorrow that includes the fix". So lets hope it will work. So far I'm using Metal Milk 1.0 . I'd prefer MaxThemes's Milk 3.2 but somehow they don't care that much for their stuff to update it with applications like iTunes.
update: Well, as Jason Harris promised the new 2.4b2 is out and fixed the crashes on Pulsar and co. But somehow I couldn't find some active community about theme creation. MacThemes is a little silent as well in the last months. I hope the theme communities from the PC users will slowly come over to OS X and reanimate the Mac communities. I've tried now about 25 recent themes and found like 2-3 that were halfway useable and got wide application support.