Just got my new mouse and started reading about mouse sensor technology. I found this very detailed report about state-of-the-art mouse-sensor-technology. Additionally i found this site with sensor manufacturer specs of some sensors.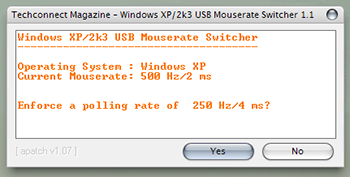 After some research in various forums i found this USB Mouserate Switcher 1.1. You can tune up and down your USB polling rate (System's USB driver modification) from standard 125 Hz (8ms) to 250 Hz (4ms), 500 Hz (2ms) and finally 1000 Hz (1ms). Some people reported a mouse freeze after reboot, so you better enable your Keyboard Mouse Emulator in Windows XP's Accessibility options. I set mine to 500 Hz and had no problems with my a4tech mouse.
This entry was posted on Friday, June 2nd, 2006 at 10:31 am and is filed under
windows
. You can follow any responses to this entry through the
RSS 2.0
feed. You can
leave a response
, or
trackback
from your own site.