After trying so many tutorials and installing so many tools i finally made it. Front Row 1.3 is running smoothly on my 10.4.8 AMD , and no illegal hacks were needed.
At first i tried this Front Row guide bei Andrew Escobar and ofcourse it was not working and ofcourse it crashed my system.
First get Front Row 1.3 from Apple's update site and drag the FrontRowUpdate1.3.pkg from the .dmg on your Desktop.
Ok, for the next step there are 2 ways:
Download the Front Row Enabler 1.3.5 and just use it to patch the FrontRowUpdate1.3.pkg on your Desktop by clicking "Enable Installation". Never press the "Patch Mac OS X"-button !!! If you already pressed the evil button you have to look at Andrew Escobar's website for further instructions on how to restore your /System/Library/PrivateFrameworks/BezelServices.framework and /System/Library/LoginPlugins/BezelServices.loginPlugin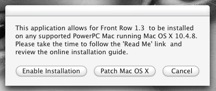 The other way is to get the Pacifist 2.0.1 open the FrontRowUpdate1.3.pkg with it to install the 2 files manually.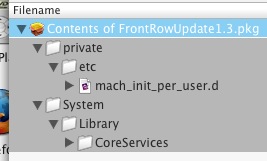 Having this done we can proceed to the step where all my previously read tutorials failed.
At first i started with some kind of fake driver, like FrontRowPass.kext from Khadgar's blog. This didn't work at all for me.
Next i found this interesting guide for installing Front Row on the Mac Pro and just followed their "Case 2" by just manipulating the IOUSBFamily.kext .
The last step was to copy the Front Row.app from System > Library > CoreServices to my Applications folder and adding it as a Login Item in the Preferences Pane: Accounts (you can use the one in CoreServices as well). Restart and chose a way to start Front Row, for example by using such a little script named openfrontrow.app (you find it on several websites, just google for the name).
I got myself a copy of Wise Weasel's Romeo Plugins 2.0 and used the Front Row Plugin for my Romeo. Now i can launch and control Front Row with my old Sony T610.
Worked for me.